Date and Time:
June 1—2 ( Wednesday-Thursday), 2022  6:00 p.m.—about 8:10 p.m. (The gate opens at 5:00 p.m.)
Place:
Heian Jingu Shrine, Sakyo Ward, Kyoto
In the case of rain:
The performance will be held in the ROHM Theatre Kyoto Main Hall if it rains.
The decision regarding the change of venue will be made at 3:00 p.m. on the day.
Information will be available from the Kyoto Takigi-noh Office and this website.
Tickets:
Advance Sale: 4,000 yen
Advance Sale for Student: 3,000 yen
Group Discount Tickets (over 15 people): 3,600 yen per ticket
At the Gate: 5,000 yen
Tickets are not refundable.
It can not enter for young children not yet attending school. There is charge for children of elementary school age accompanied by an adult. (Even if he/she has a ticket, a child under elementary school age must still be accompanied by an adult.) Tickets are on sale at Heian Jingu Shrine, ROHM Theatre Kyoto, Kyoto Concert Hall, JR Kyoto Station Tourist Office (2nd Fl.), Tomatsuya, and Kyoto Noh theatres, electronic tickets: Ticket PIA (P code: 510-951), Lawson (L code:52153)  from April 16th.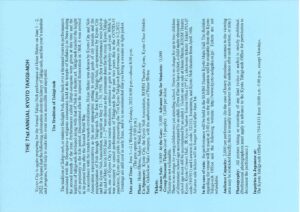 Advance sale tickets will be sold until the day before the performance.
Audience Capacity:
There is seating for 2,000 per performance. (In the case of heavy attendance, entrance to the viewing area may be restricted briefly; there is usually some turnover in the audience after each section, or play.)
Photography:
All picture taking or recording of any kind (video or audio) is strictly prohibited.
Inquiries in Japanese at:
The Kyoto Takigi-noh Office (075) 754-0331 from 9:00 a.m.-5:00 p.m., except Mondays
Kyoto Takigi-Noh in 2019